RV Polarstern Expedition PS137 - ALOIS (June 21 - July 31, 2023)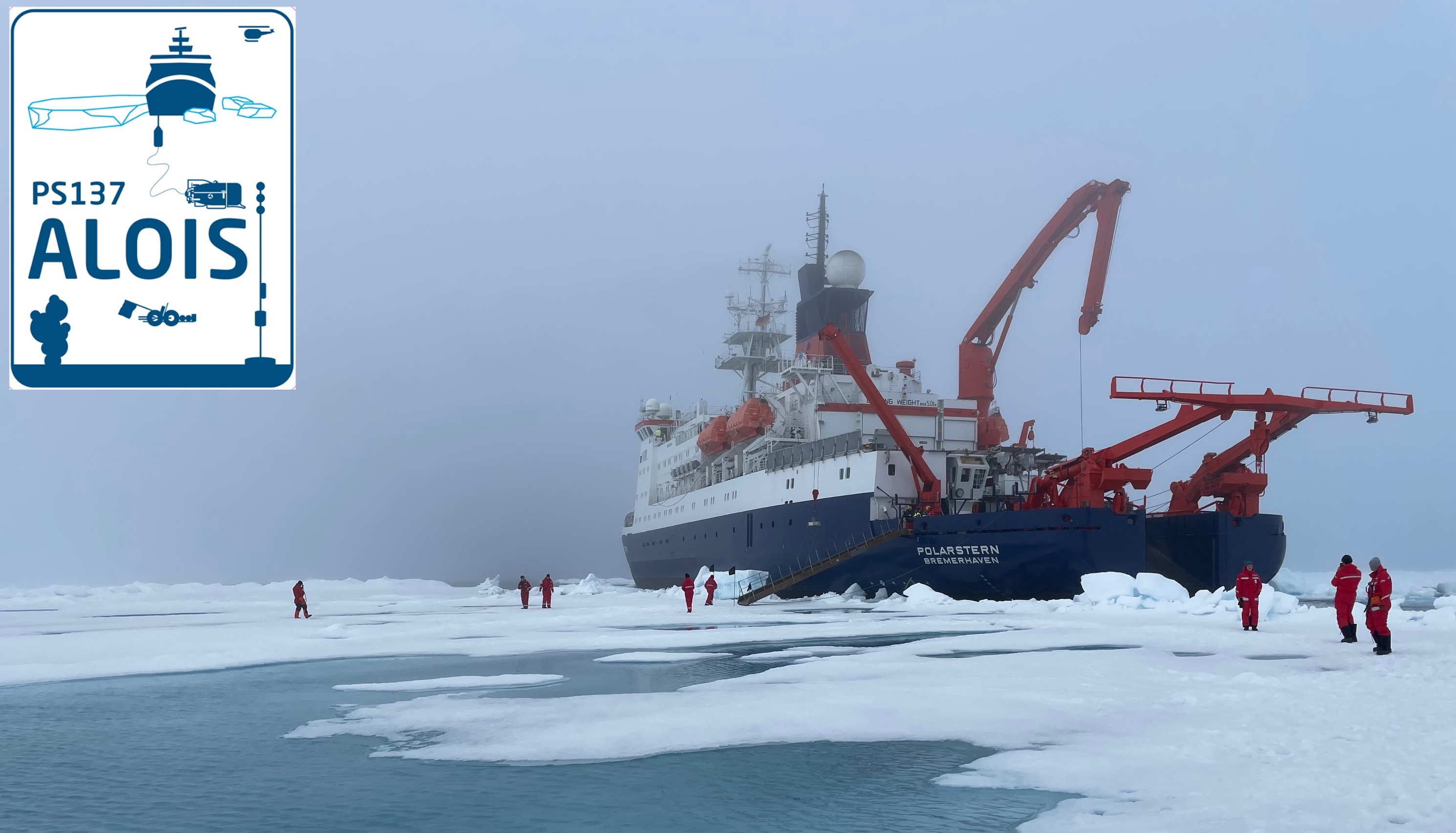 RV Polarstern during the PS137 Expedition (ALOIS) in July 2023 (photo: H. J. Bünger)
The ALOIS project (Arctic Lithosphere-Ocean Interaction Study) was a pioneering interdisciplinary experiment focused on the mid-ocean ridges in the Central Arctic Ocean and Northern Fram Strait. The RV Polarstern from the Alfred Wegener Institute Helmholtz Center for Polar and Marine Research set out on the PS137 expedition to recover a number of instruments and moorings that were deployed in 2022 and to conduct ROV operations at the hydrothermal vent fields along the Gakkel Ridge. The data gathered by the ROV, the oceanographic moorings and Ocean Bottom Seismometers (OBS) provide the basis for the investigation into the formation of new lithosphere and the associated seismic activity and hydrothermal circulation. Special focus lay on the Aurora hydrothermal vent field for its ultraslow seafloor spreading and active hydrothermal vents.
Drift+Noise Polar Services played an instrumental role in the accomplishment of the ambitious goals of the PS137 expedition by providing critical ice advisory support during the challenging in-ice subsea operations conducted between June 21 and July 31, 2023. The scientific operations were not only demanding for crew and scientists but also inherently risky due to the limited ship time available and the potential for loss of subsea equipment which would have resulted in the loss of valuable scientific data as well. The prevailing heavy, multi-year sea ice conditions added a very critical extra layer of difficulty to the mission.
With the help of our network of partners and various open sources of data we were able to put together an array of invaluable data sets, including: Satellite radar imagery from TerraSAR-X (German Aerospace Center), the RADARSAT Constellation Mission (Canadian Space Agency), and Sentinel-1 (ESA), as well as, AMSR-2 sea ice concentration data (Japanese Space Exploration Agency) and Moderate Resolution Imaging Spectroradiometer (MODIS) optical images (NASA). In addition, we utilized TOPAZ4 (Copernicus Marine Service), SIDFEx (AWI) and ICON wind data (German Weather Service) based sea ice drift forecasts together with realtime sea ice drift buoy data.
We took charge of navigation support to the work area and strategic planning in the designated areas of interest, which included: identifying optimal open water areas and analyzing and forecasting sea ice conditions and drift patterns. Our main objective thereby was to ensure the safe and efficient retrieval of moorings and OBS systems, while minimizing potentially damaging ice interactions. Moreover, we were able to find a way to combine the available data to pinpoint suitable open water zones that smoothly drifted over the predefined target area in the Aurora hydrothermal vent field within the predetermined timeframe. This strategic planning with both the ship's crew and the scientific groups allowed for efficient and very successful ROV dives with the unique Nereid Under Ice (NUI) from the Woods Hole Oceanographic Institute (WHOI), even at depths of over 4000 meters and operation times of about 12 hours.
Our expertise and insights into the various factors influencing sea ice and its behaviour significantly contributed to the expeditions success because we were able to optimize acquisition and interpretation of the provided data and therewith helped mitigate risks, enhanced safety, and improved efficiency within the context of these challenging in-ice subsea operations.
Objectives:
Recovery of oceanographic moorings
Recovery of Ocean Bottom Seismometers (OBS) from the sea floor
ROV dives to the Aurora hydrothermal vent field for mapping and sampling
Drift+Noise tasks:
Near-realtime Earth Observation Data delivery and interpretation
Sea ice navigation support on the bridge of Polarstern
Short-term sea ice drift analysis and forecasting
Daily and on-demand sea ice briefings for crew and scientists
Sea ice buoy deployments
Interested in finding out more about the PS137 (ALOIS) expedition or have your own challenging expedition coming up? Contact us via email at info@driftnoise.com; we'd love to support your next expedition as well!